Steven Orland's Coventry, Now & Then
Hales Street and the Old Fire Station
---
Now we can see what Hales Street used to look like before the war - 1933 in this photo - the year before the Fire Station gained another three bays. The old Hippodrome was still there - about to be demolished and replaced by a new theatre. (See my dad's page showing the New Hippodrome.) The old Fire Station was smaller then too, and behind that is the Holy Trinity Church School in Ford Street, (with the pointy roof) and further back, a row of shops in White Street, which all disappeared so the Ring Road could be built.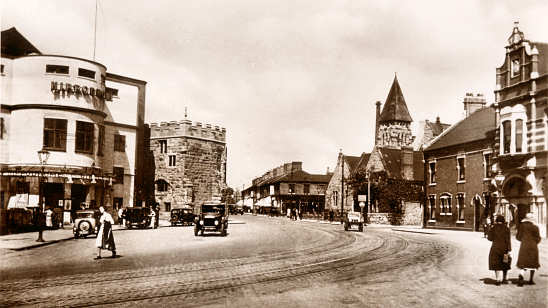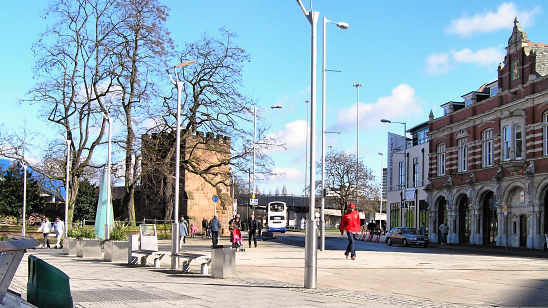 At least Swanswell Gate is still there, and the Fire Station too, which as you can see was made larger after the war, but is now a restaurant, opened in 2006.
Fireman Pete Stott, who used to be with the West Midlands Fire Service based at our Radford Road station, but now working with Warwickshire Fire and Rescue, has kindly written to add some more interesting information about the old Hales Street Fire Station:
"It was a three bay station in 1911 and the houses next to the station where the sub officer and his assistant and families lived was demolished not long after so the station could be extended. There was some damage caused to the rear of the station during the Second World War. The bay window in the centre was the fire control room. Incidentaly the Coventry Fire Brigade is allegedly the second oldest in the country and was formed in 1861, and became semi-professional in 1898 and moved from St Mary Street into Hales St in 1902."
An old newspaper article about Coventry's first Fire Brigade can be read on my dad's Historic Coventry website.